In today's day and age, you can buy almost anything online. There are multiple vendors with online platforms which allows you to have a large selection of any product in a specific category. The overall buying process is extremely streamlined to the point where human contact is not needed.
However, when it comes to large format print displays, your options for the same experience are quite limited. There are only a select few companies that offer a completely automated ordering process. IAC offers one of those platforms!
What Are the Benefits?
Same Day Proofs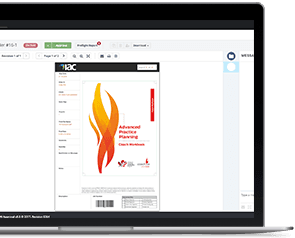 Gone are the days of lengthy artwork approval processes. Our ecommerce platform has the unique ability to streamline this previously time-consuming step and deliver print ready proofs within 24 hours. One-click approval allows for faster turnaround times and a streamlined production process.
Mobile Purchasing
Our fully responsive platform allows you to easily purchase your turnkey displays from any device. Accomplish more on the go and utilize IAC Go Visual as your mobile resource centre for all your turnkey display needs.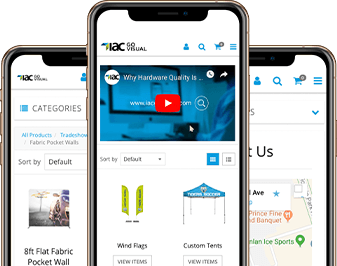 Ease of Use
Your time is precious, you don't want to waste it trying to find the products you are looking for! Navigating our ecommerce platform is a breeze with products organized by specific categories. Each step in the process is clearly laid out, and everything you need to have an enjoyable checkout experience is labeled on each product.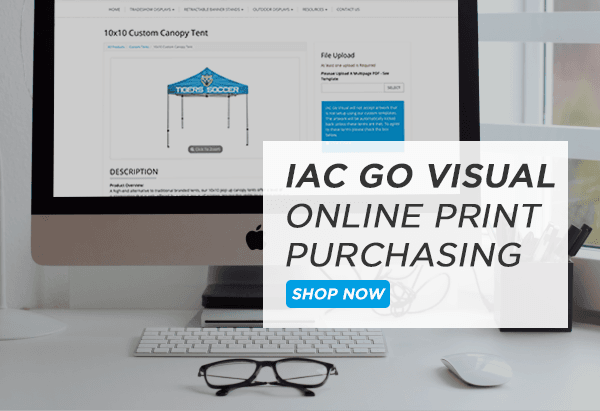 At IAC we constantly look to innovate the way that our consumer interacts with the visual communication industry. IAC Go Visual is just another way for us to improve your overall ordering experience.
To learn more about this product contact IAC at 416-493-8888 or [email protected]